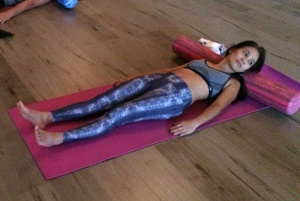 Myofascial Release and Body Rolling
You'll learn in-depth bodywork tools integrating deep tissue, myofascial and neuromyoskeletal techniques to relieve pain and recreate healthy alignment in the body.
Aerial Silks
This  workshop is held at The Yoga Unit Rancho Cucamonga location. See The Yoga Unit website for details on the next Aerial Silk event.

Arm Balances
This workshop teaches the fundamentals of breaking down the elements of arm balances. We work on various techniques to achieve arm balance poses such as, Side Plank, Eight Angle Pose, Crow, Side Crow, Elephant Trunk Pose, Firefly and many more. Workshops held at The Yoga Unit, Claremont, CA.
Other Workshops: Inversions, Backbends, Twists, Vinyasa and Standing Balance