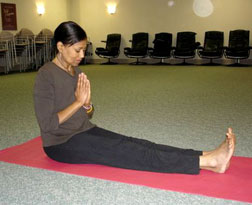 Monica,
I began taking yoga with you on Wednesdays the first week of January 2007. I had been wanting to get back to yoga for a long time. I did it for a while in the wild 70's when it was all the vogue thing to do, but somehow stopped...to my regret.
I found that although I felt good, and some say I looked good, I felt the need to do something for myself, to center my life. I was also having problems with my feet, I have plantar fascitis in both feet and Morton's neuroma in a couple of my toes. (As I told you, Morton is my maiden name and I had to laugh when the dr. diagnosed that.) Anyway the fascitis was really giving me a hard time, I love to walk for exercise and found that it was becoming increasing hard to keep up my normal pace because my feet hurt so much.
You showed me several exercises for the feet, heels and ankles..they have really helped. You always seem to know what yoga movements to put us through precisely when I need it. My plantar fascitis has become a minor problem, my balance is becoming what it was 3 or 4 years ago. I also see small changes in my body. Although I have never been heavy, that extra flab, flub around the belly was coming on strong. With very little change in my diet, but increased yoga activity, I feel my muscles elongating and stretching. Like I said, little changes but they are real. I have increased my yoga practice to two times a week and in a few months, will try for a minimum of three times a week.
I had always been the type person who would start something, but who had a difficult time sticking with the endeavor. I find myself really looking forward to the yoga classes and I go every Monday and especially every Wednesday to your class if I don't have something extremely pressing to do. No more excuses for me. Thank you Monica, you have made a difference in my life. You are such a wonderful instructor and everyone can easily see how dedicated you are to yoga and your students.
Namaste, Linda