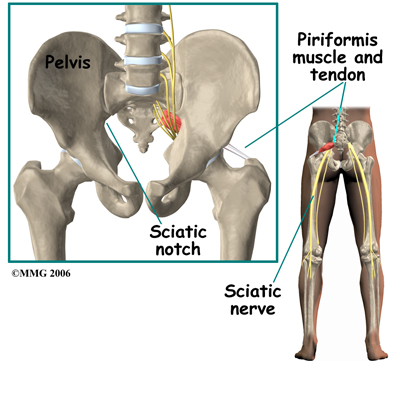 Inaction gluteal muscles may cause the syndrome to develop. A major cause for inaction gluteals is overactive hip flexors. [Psoas Major, Iliacus, and Rectus Femorus]
This imbalance occurs when the hip flexors are trained and become too short and tight; as in when someone sits with hips flexed all day at work. This deprives the gluteals of activation and the hamstrings, adductors, and piriformis muscles have to perform extra roles they were not designed to do. The result is swelling of the piriformis that produces sciatica symptoms.
Runners, cyclists, and athletes engaging in forward-moving activity are susceptible to piriformis syndrome if they do not engage in lateral stretching and strengthening exercises.
Weak outer thighs and hip muscles combined with tight inner thigh muscles can cause the piriformis muscle to shorten and severely contract.
Another cause for piriformis syndrome may be stiffness of the sacroiliac joint. This changes the walking gait and can result in sheering the origin of the piriformis causing malfunction and low back pain.
Over pronation of the foot causes the knee to turn medially causing the piriformis to activate the stop the knee from over rotating, resulting in overuse of the piriformis muscle, thus leading to piriformis syndrome.
Lastly, the most frequently associated cause is a falling injury.