ARM STRENGTH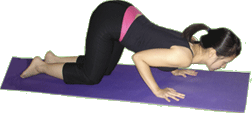 Position A
Poses which require arm strength require every bit as much core (abdominal) strength as they do upper body strength. As with any muscle group, lack of exercise causes the muscles to weaken. Eventually the atrophied muscles lead to frailty. The test of strength in the arm is measured by the ability to lift, pull, push and grip. Muscle degeneration leads to osteoporosis (porosity of the bones). The weakening of the muscle and thinning of the bone trigger problems with balance and eventually lead to broken bones and falls. AT ANY AGE the muscles CAN regenerate and gain strength, but this takes a steady process of exercise.

Position B
Begin the arm strengthening by kneeling quadruped and doing push-ups from POSITION A. Bend your elbows and tuck them close to your ribs and lower your sternum toward the floor. Make sure your upper back stays broad and that you don't cave in between your scapula bones. Don't squeeze your trapezius muscles (upper shoulders) into the sides of your neck. Shrug your shoulders down away from your ears. Work up to doing several sets of ten repetitions with good form. When you can accomplish POSITION A push-ups, then move to POSITION B by sliding your knees farther back and lowering your chest to the floor. Keep your shins and tops of your feet down on the floor as you lift and lower your chest. Then you can move to full Chaturanga (POSITION C) with your legs straight, balancing on your toes.

Position C
Make sure that your hips do not sink toward the floor and that your elbows stay tucked back by the ribcage. Broaden across the shoulders and resist the temptation to sink the head down to the floor.
| | | | |
| --- | --- | --- | --- |
| | | | |
| Plank | Puppy Dog | Tripod | Take It Up |
| | | | |
| Fish | Table Top | Crow | Chaturanga |